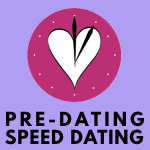 The World's Largest Speed Dating Co Since 2001

Privacy Policy
Pre-Dating Speed Dating, Inc. ("Pre-Dating", "Us" and "We") respects the privacy of its Participants, Mailing List Subscribers and Web Site Users (hereinafter collectively referred to as its "Users", "You" and "Your") and does not collect personally identifying information without Your permission.

Pre-Dating does not sell or rent your personally identifying information including your email address to third parties. We do not disclose personally identifying information to anyone that we are not authorized to do so. Pre-Dating reserves the right to release information on its Users only if compelled to do so by proper governmental or judicial authorities. Disclosure shall be limited to only those entities that Pre-Dating is compelled to disclose to.
All Private Information submitted by User is kept confidential and will not be disclosed to third parties except as required by law or to protect the visitors and users, employees, or property of Pre-Dating, or in the event of a merger or a sale or transfer of all or substantially all of the business, assets, or equity of Pre-Dating to another company or entity.

Since You may not Participate in a Pre-Dating event if you are under the age of 18, Pre-Dating complies with the Children's Online Privacy Protection Act of 1998. If you inform Us that We have collected or received information from someone under 18, Pre-Dating will promptly delete such information from its system. No Pre-Dating Web Site or Event is specifically directed to children under 18.

Our site may utilize cookies for anonymous user counting purposes. A cookie is information that many sites save to a file on your disk drive. A cookie by itself cannot be used by a site to procure personal data about a user. It cannot be used to read data stored on your computer other than what has been voluntarily provided by you or is inside cookies provided by the same Web site. Most Web browsers have a feature that allows you to selectively accept certain cookies or reject all of them.

This website takes several precautions to protect Members' information. When Members submit personally identifiable information via the website, their information is protected both online and off-line. Our order form asks users to enter sensitive information (such as credit card numbers). Such information is encrypted and is protected with the most widely used and trusted encryption software in the industry - SSL. While on a secure page, such as our order form, the lock icon on the bottom of Web browsers such as Netscape Navigator and Microsoft Internet Explorer becomes locked, as opposed to un-locked, or open, when users are just "surfing".
We also take certain measures to protect personally identifiable information off-line. All Members' information, not just the sensitive information mentioned above, is restricted from access in our offices. Only authorized employees who require the information to perform a specific job (for example, a billing clerk or a customer service representative) are granted access to such information. We also provide training to new employees that have access to our confidential databases and Members information. Our production servers that store personally identifiable information are also in a secure environment, in a fortified facility with biometric identification systems.
If you have any questions about the security at our website, contact us.

We use Google Analytics to monitor certain pages of our Web site for the purpose of reporting web traffic, statistics, advertisement 'click-throughs', and/or other activities on our site. Google may use cookies and/or other monitoring technologies to compile anonymous statistics on our Web site visitors. For more information about how the information collected by Google is used, please see Google's privacy policy at http://www.google.com/privacy.html
If you have any questions about our Privacy Promise, Terms of Use or other aspects of our site or service, kindly refer to our Contact Page.
This Policy applies to the Web sites, Mailing Lists and Events owned or operated by Pre-Dating Speed Dating, Inc. This Policy may change at any time without notice.
Pre-Dating Speed Dating
11419 W Palmetto PK RD
Suite #971502
Boca Raton, FL 33433

Non-Mobile Home
How It Works
FAQ
Become a Coordinator
Contact Us
Opportunities
Press
Privacy
Newsletter
Terms of Use


Albuquerque ♥ Atlanta ♥ Cincinnati ♥ Cleveland ♥ Columbus ♥ Dallas ♥ Sacramento ♥ San Diego ♥ Washington DC

For $9.95 Master THE ART OF SPEED DATING, Our Book On Amazon.com, Click Here!
Copyright © 2001-2023
Pre-Dating® Speed Dating, Inc.
All Rights Reserved