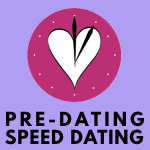 The World's Largest Speed Dating Co Since 2001
5,922,720 Speed Dates And Counting!
SPECIAL NOTICE: Teleseminar - April 8, 2019
FREE Pre-Dating Teleseminar - Sticks and Stones... Communication To Create Authentic Connections
Who:
All Online Singles
Where:
Phone/Skype/Online
When:
Monday, April 8, 2019
Time:
8:30 PM to 9:45 pm (EST)
Price:
Complimentary!
RSVP:
Click here for more information
Pre-Dating Is Hiring!
Are you interested in making a few extra bucks every month, plus having fun while doing it? CLICK HERE To Apply and Learn More About This Fun and Exciting New Part-Time Position!.
Palm Beach EventDates And TimesTo Be Announced Soon!
If you are single and living in Palm Beach and would like Pre-Dating to run a local speed dating event, please sign up below! Once we have attracted enough attendees for this event, we will contact you:

399 Singles Signed Up Recently!



First Name:

Email:

I Am:

Male | Female



Would you like to run this event for us? If so, PLEASE CLICK HERE to start the process of becoming a Pre-Dating Coordinator.





SPECIAL NOTICE: Lock And Key Event - Apr 6
Who:
All Singles
Ages:
29-57
Where:
WISH-Boca
111 SE Mizner Boulevard
Boca Raton, FL 33342
When:
Saturday, Apr 6
Time:
8:00 PM
Register PREPAID with Promo Code PDW9
to pay only $24!



Co-sponsored by Pre-Dating® & SinglesEvents.com

Ultimate Ice Breaker Interactive Social Event!

For Questions About This Event Contact:
Tracey at (954) 899-0908






SPECIAL NOTICE: Lock And Key Event - May 18
Who:
All Singles
Ages:
25-55
Where:
Round Up Nightclub and Restaurant
9020 West State Road 84
Davie, FL 33324
When:
Saturday, May 18
Time:
8:00 PM
Register PREPAID with Promo Code PDW9
to pay only $24!



Co-sponsored by Pre-Dating® & SinglesEvents.com

Ultimate Ice Breaker Interactive Social Event!

For Questions About This Event Contact:
Tracey at (954) 899-0908






SPECIAL NOTICE: Lock And Key Event - Jun 13
Who:
All Singles
Ages:
25-55
Where:
Modern Sixties Wine Lounge
1828 East Sunrise Blvd
Ft Lauderdale, FL 33304
When:
Thursday, Jun 13
Time:
7:30 PM
Register PREPAID with Promo Code PDW9
to pay only $24!



Co-sponsored by Pre-Dating® & SinglesEvents.com

Ultimate Ice Breaker Interactive Social Event!

For Questions About This Event Contact:
Tracey at (954) 899-0908






SPECIAL NOTICE: Lock And Key Event - Jul 13
Who:
All Singles
Ages:
25-55
Where:
Round Up Nightclub and Restaurant
9020 West State Road 84
Davie, FL 33324
When:
Saturday, Jul 13
Time:
8:00 PM
Register PREPAID with Promo Code PDW9
to pay only $24!



Co-sponsored by Pre-Dating® & SinglesEvents.com

Ultimate Ice Breaker Interactive Social Event!

For Questions About This Event Contact:
Tracey at (954) 899-0908






SPECIAL NOTICE: Lock And Key Event - Aug 17
Who:
All Singles
Ages:
29-57
Where:
WISH-Boca
111 SE Mizner Boulevard
Boca Raton, FL 33342
When:
Saturday, Aug 17
Time:
8:00 PM
Register PREPAID with Promo Code PDW9
to pay only $24!



Co-sponsored by Pre-Dating® & SinglesEvents.com

Ultimate Ice Breaker Interactive Social Event!

For Questions About This Event Contact:
Tracey at (954) 899-0908