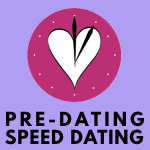 The World's Largest Speed Dating Co Since 2001
6,302,500 Speed Dates And Counting!

Fort Lauderdale Speed Dating Singles Events
Pre-Dating Is Hiring!
Are you interested in making a few extra bucks every month, plus having fun while doing it? CLICK HERE To Apply and Learn More About This Fun and Exciting New Part-Time Position!.
Fort Lauderdale EventDates And TimesTo Be Announced Soon!
If you are single and living in Fort Lauderdale and would like Pre-Dating to run a local speed dating event, please sign up below! Once we have attracted enough attendees for this event, we will contact you:

2934 Singles Signed Up Recently!





The Following Are Speed Dating Events Near Fort Lauderdale:
Palm Beach:
Delray Beach , FL - Wednesday, December 20, 2023
Delray Speed Dating Event For Singles Ages 42-56 by Pre-Dating

Delray Beach , FL - Wednesday, December 20, 2023
Delray Speed Dating Event For Singles Ages 34-47 by Pre-Dating

Boca Raton , FL - Monday, January 8, 2024
Boca Raton Speed Dating Event Singles Ages 55-69

Boca Raton , FL - Monday, January 8, 2024
Boca Raton Speed Dating Event for Singles Ages 39-54

Delray Beach , FL - Wednesday, January 17, 2024
Delray Speed Dating Event For Singles Ages 30s-40s by Pre-Dating

Delray Beach , FL - Wednesday, January 17, 2024
Delray Beach Speed Dating Singles Event for Ages 20s-30s

Delray Beach , FL - Wednesday, February 21, 2024
Delray Speed Dating Event For Singles Ages Ages 55-67 by Pre-Dating

Delray Beach , FL - Wednesday, February 21, 2024
Delray Beach Speed Dating Singles Event for Ages 39-54 by Pre-Dating

Boca Raton , FL - Monday, March 11, 2024
Jewish Speed Dating in Boca Raton - Jewish Singles Event for Ages 40-55

Boca Raton , FL - Monday, March 11, 2024
Boca Raton Jewish Singles Event for Ages 25-45 Jewish Speed Dating

Delray Beach , FL - Wednesday, March 20, 2024
Delray Beach Speed Dating Singles Event for Ages 36-56 by Pre-Dating

Delray Beach , FL - Wednesday, March 20, 2024
Speed Dating for Ages 21-41 in Delray Beach - Singles Event by Pre-Dating