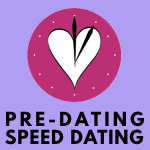 The World's Largest Speed Dating Co Since 2001
5,977,280 Speed Dates And Counting!
SPECIAL NOTICE: Teleseminar - July 22, 2019
FREE Pre-Dating Teleseminar - Dating, Relationships and Marriage- The Ultimate LIVE Dating Q&A
Who:
All Online Singles
Where:
Phone/Skype/Online
When:
Monday, July 22, 2019
Time:
8:30 PM to 9:45 pm (EST)
Price:
Complimentary!
RSVP:
Click here for more information
Pre-Dating Is Hiring!
Are you interested in making a few extra bucks every month, plus having fun while doing it? CLICK HERE To Apply and Learn More About This Fun and Exciting New Part-Time Position!.
Danbury EventDates And TimesTo Be Announced Soon!
If you are single and living in Danbury and would like Pre-Dating to run a local speed dating event, please sign up below! Once we have attracted enough attendees for this event, we will contact you:

46 Singles Signed Up Recently!



First Name:

Email:

I Am:

Male | Female



Would you like to run this event for us? If so, PLEASE CLICK HERE to start the process of becoming a Pre-Dating Coordinator.