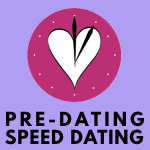 How Pre-Dating Speed Dating Events Works
You surf the Pre-Dating.com site to learn all about it. Each city page has a list of events and a way for you to be notified of future ones. See the Scheduled Events page for a list of all Pre-Dating cities.
You register for an event on our Web site, by fax or by phone (to ensure equal numbers of men and women, you MUST pre-register, there are no on-site registrations!). If you don't see an event that matches your preferences, please join the Event Notification List.
Within seconds after you register, we email you all the event details including
directions. If you don't get this email contact us.
You show up a few minutes EARLY for the event, get your name tag and Match
Sheet scorecard.
You meet 6 to 12 (and sometimes more) other single professionals in less
than 2 hours (via a series of 6-minute "Pre-Dates"). We facilitate
the whole thing so you are guaranteed to meet everyone there in a safe
and fun way. To maximize your experience, we usually hold events in
private or semi-private areas at an upscale venue. Many events include free
appetizers and/or drink specials.
On your Match Sheet, you decide who you'd like to know better and they
do the same. At the end of the event, you enter your Match Sheet selections
on our Web site at Pre-Dating.com.
Your initial party results are received within 24 hours! Pre-Dating then
emails each guest a list of participants who would like to hear from
them again! Odds are you'll have one or more matches (more than two-thirds
of Pre-Daters match at least one person).
After that, it's up to you! Since you've had a Pre-Date, your chances of
making a more lasting connection are vastly increased.
Have more questions? Read our Frequently Asked Questions page, email your local coordinator or click the button below to chat live with Pre-Dating Customer Service.
Not sure? Join the notification list for your area to be notified of future events in your area that match your interest preferences.
Read Attendee Reviews
of Pre-Dating Events


Non-Mobile Home
How It Works
FAQ
Become a Coordinator
Contact Us
Opportunities
Press
Match Guarantee
Privacy
Newsletter
Terms of Use


For $9.95 Master THE ART OF SPEED DATING, Our Book On Amazon.com, Click Here!
Copyright © 2001-2022
Pre-Dating® Speed Dating, Inc.
All Rights Reserved