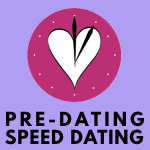 The World's Largest Speed Dating Co Since 2001

Interested in a Business Relationship
with Pre-Dating?
Pre-Dating Speed Dating, Inc. is the World's Largest Speed Dating event company with Monthly Events in over 100 cities in the US & Canada. A key differentiator is our target market, as we focus on busy single professionals.

If you are interested in pursuing a possible business relationship for any of the following purposes, please contact us at 561-510-0733 or CLICK HERE to become an Event Coordinator.
Sponsorship Opportunities - Our highly desirable demographic of single professionals (mainly ages 24-49), large database, national footprint and highly trafficked Web site provides a great opportunity to promote your product or service in a variety of ways. Probably our most popular opportunity is product sampling. Many companies like that we can provide in-venue sampling opportunities to our customers for new products including beverages. Contact us if you would like to introduce your product at our events and even request feedback via surveys (market research).


Licensing Opportunities - We have established a robust and scalable infrastructure with a proven system that is available for licensing in other areas outside the US.


Event Coordination Opportunities - If your group, charity, school or company is interested in leveraging our expertise in holding speed dating events (and even speed networking events), we can help ensure it's a complete success!


Affiliate Opportunities - If you have a Web site or other means to reach people who may be interested in attending our events, we have a program that will pay you for referrals.


Financial Opportunities - Pre-Dating is growing at a very substantial rate and is open to proposals that help us sustain our leadership in this fast-growing market.


Other Opportunities - Whatever your ideas, feel free to contact us. We are receptive as well as responsive and are always looking to establish mutually beneficial relationships!






Non-Mobile Home
How It Works
FAQ
Become a Coordinator
Contact Us
Opportunities
Press
Privacy
Newsletter
Terms of Use


Albuquerque ♥ Atlanta ♥ Baltimore ♥ Boston ♥ Buffalo ♥ Charlotte ♥ Chicago ♥ Cincinnati ♥ Cleveland ♥ Columbus ♥ Dallas ♥ Denver ♥ Detroit ♥ Fort Lauderdale ♥ Indianapolis ♥ Jacksonville ♥ Kansas City ♥ Los Angeles ♥ Louisville ♥ Miami ♥ Milwaukee ♥ Minneapolis ♥ Orange County ♥ Orlando ♥ Philadelphia ♥ Phoenix ♥ Pittsburgh ♥ Sacramento ♥ San Antonio ♥ San Diego ♥ San Francisco ♥ San Jose ♥ St. Louis ♥ Tampa ♥ Washington DC

For $9.95 Master THE ART OF SPEED DATING, Our Book On Amazon.com, Click Here!
Copyright © 2001-2023
Pre-Dating® Speed Dating, Inc.
All Rights Reserved