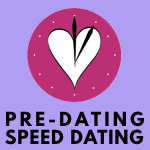 The World's Largest Speed Dating Co Since 2001

The Pre-Dating Match Guarantee Is No Longer Available
Experience and results have shown us that our unique, efficient and fun events have a very high match rate (about 70% on average). Therefore, we believe that most attendees will match with someone!
As of January 1, 2023, Pre-Dating Speed Dating No Longer Offers A Match Guarantee!
What are you waiting for? The odds are in your favor! Click to Register Now.
Pre-Dating Speed Dating does its best to help speed dating participants meet and match with as many people as possible at a singles event in your local city, and still keep the speed dating event running well. Speed dates are a great way to meet a bunch of possible dates in a short period of time in a professional setting. Typically you will meet an average of 10 attendees in Pre-Dating events.

Non-Mobile Home
How It Works
FAQ
Become a Coordinator
Contact Us
Opportunities
Press
Privacy
Newsletter
Terms of Use


Albuquerque ♥ Atlanta ♥ Baltimore ♥ Boston ♥ Buffalo ♥ Charlotte ♥ Chicago ♥ Cincinnati ♥ Cleveland ♥ Columbus ♥ Dallas ♥ Denver ♥ Detroit ♥ Fort Lauderdale ♥ Indianapolis ♥ Jacksonville ♥ Kansas City ♥ Los Angeles ♥ Louisville ♥ Miami ♥ Milwaukee ♥ Minneapolis ♥ Orange County ♥ Orlando ♥ Philadelphia ♥ Phoenix ♥ Pittsburgh ♥ Sacramento ♥ San Antonio ♥ San Diego ♥ San Francisco ♥ San Jose ♥ St. Louis ♥ Tampa ♥ Washington DC

For $9.95 Master THE ART OF SPEED DATING, Our Book On Amazon.com, Click Here!
Copyright © 2001-2023
Pre-Dating® Speed Dating, Inc.
All Rights Reserved